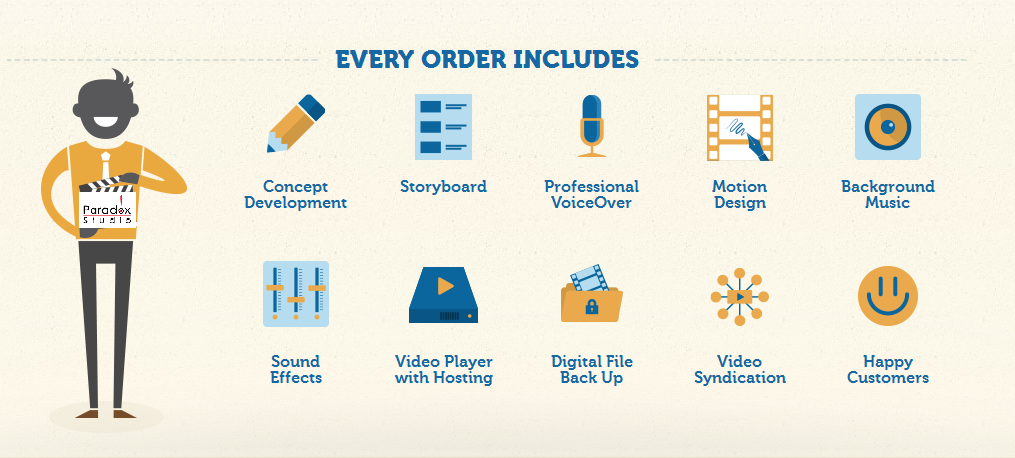 The Paradox Process
– Our production process was designed for efficiency and quality.Each step has a purpose and we ask that our clients take an active role in making decisions and giving approvals. We always do our best to update you on the process and always welcome question and comments.
1. Creative Brief – We assist our client in completing the brief. First, we ask you to fill out our creative brief and submit it to us. We do all the heavy lifting, but we do ask for your time and attention in filling out the brief. A completed creative brief really helps us get a better understanding of the vision of your product/process. Each and every question in the brief was hand-picked for a reason.
2. We Review the Creative Brief – Ideas start to flow internally. Once we receive the completed brief we then review it internally with our creative team and start to discuss possible concepts and ideas around a script/storyboard. We also discuss your product/service a bit further to make sure we have a strong understanding of it.
3. Collaborative Call – Next, we jump on a call to discuss the brief and answer any questions. We may also need to clarify a few points from the completed brief. At this point, we will have a concept in mind and will present it to you. We also discuss possible characters selections and the design aesthetic. We like to also get a feel for your preferences in animation and the overall look and feel. We then try to tailor a look to match your brand.
4. Scripting – Now that we have all the information we need to complete the script it is our job to get to work. We will come up with a script and concept and present them to you together. You will certainly have the opportunity to review and make changes/comments. Scriptwriting is a process and sometimes it takes a few iterations of the script to come to a final version. We will keep at it until we get the message right, but we do ask for specific feedback from our clients. We have found that a collaborative process is the best way to operate and the final product is usually enhanced when our clients take an active role.
5. Mood Board / Samples – Next it's time to build out the visuals. We generally will go about showing samples that we feel fit for the video style /  treatment. This is essentially to give the client and idea of the feel of the video.
6.Pick a Voice Talent – A great voice makes all the difference. It's really imperative to pick a voice that fits in with the concept. All of our voice talent has been hand-picked because of their unique talent and professionalism. Typically, we will recommend 5-6 voices that we feel are a good fit for the project. This will allow you to pick a voice that sounds the best to you. In this phase there is really no right or wrong choice as we have pre-screened the voices to fit your brand. It's all about preference now.
7. Sound EFX & Background Music – Music and Sound are sometimes the forgotten elements. Not with Paradox! We feel it's imperative to add these touches to the presentation. We spend a lot of time and energy picking the right music track. All of our music is 100% copyright free and hand-picked to match your demo video. A music track has to have the right pace and work well with the movement. A sound design can really help drive home the point. It's kind of like adding an exclamation point to a sentence. We generally add the sound efx in at the end as we have found that it's the best time to add this touch.
8. The Actual Shoot  & Motion Design – Now the fun part begins! We would about filming the actual video and gather the required graphics for the video. In terms of a complete motion graphics video.. the graphics are looked into and in the end a Draft is presented to the client for feedback. The motion phase generally takes about 2 weeks for us to complete and requires a lot of time and attention to the details. We offer a fun and unique product, but we take our job very seriously. This phase is certainly fun, but it also is a crucial stage in the process.
9. Video is FINALIZED – Once we have a complete version of your video, we will present it to you for review. Upon your review we will wait for final comments. Once the video is finalized we will then render out an HD version. The previous versions are typically in SD. But, we generally wait to the end to send over the HD version with the final files
10. Video is Delivered & Conversion Rates GO WAY UP! – Now it's time to send over your video. We will typically send over a downloadable link to an MP4, but we can certainly render out other formats upon request. We will also provide some proven options for hosting.
Click HERE to see our portfolio